Heart & Soul : Live in San Francisco
Overview I Song List & Samples I Reviews I Credits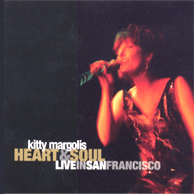 Kitty Margolis is at her very best LIVE and on "Heart & Soul: Live in San Francisco" she proves this in spades. Margolis is tremendous improviser, a risk-taker at her very core and this new CD brilliantly captures the unpredictable excitement of the singer's club set, down to Margolis' dialogue with the audience and off-the-cuff humor. Here, for her fifth recording as a leader, Margolis celebrates a return to her roots, taping in front of a packed house at the old On Broadway Theater in San Francisco's North Beach, only a few doors down from the legendary but now defunct Jazz Workshop, where she made her critically acclaimed debut album fifteen years earlier.
Highlights include: Kitty's fresh, buoyant arrangement of "A Sleepin' Bee," her incendiary scat tour de force on "Summertime," a bluesy romp though Mose Allison's "Your Mind Is On Vacation" the funky, joyful re-working of "Surrey With the Fringe," her sweet, poignant celebration of "Secret Love," the blazing version of "My Favorite Things" and her achingly romantic interpretation of the title track.
About "Heart and Soul" Margolis says, "I'm really excited about this record. I think it completely captures the essence of who I am as an artist and the musical values I stand for. I love live performance. Here you have the raw truth, the bare essentials, an old school blowing session with a great trio. There is nothing like the circle of energy between the band and the audience on a good night. When it's happening it's the best feeling in the world."